Colorado Section Manager CCARC Report – Spring 2018 Meeting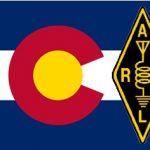 ARRL Affiliated Clubs:
Number of ARRL Affiliated clubs in Colorado = 46
ARRL Membership
ARRL members in Colorado = 3597
ARRL members in Rocky Mountain Division = 7296
ARRL members in USA = 158,905
Licensed Amateurs in Colorado = 17,234
| | | | | | | | |
| --- | --- | --- | --- | --- | --- | --- | --- |
| Colorado | Novice-141 | Technician-9040 | | General-3852 | Advanced-895 | Extra-3306 | Total-17234 |
ARRL Membership in Colorado
As of the first quarter of 2018, the ARRL Colorado Section has shown a -0.8% total net loss in our overall ARRL Membership over the preceding year ending January 2017. This represents a net total of 3,597 ARRL members out of the 7,296 current members in the entire Rocky Mountain Division (CO, UT, WY, and NM). Last year at this same time there were 3,625 ARRL members in Colorado. Colorado ARRL affiliated hams make up almost 50% of the Rocky Mountain Division's total ARRL membership.
The ARRL Colorado Section reflects the losses in the Rocky Mountain Division this year with the total number of hams and net gains/losses in ARRL membership/month and yet, is showing less losses than most ARRL Sections in the USA. The Rocky Mountain Division ARRL membership has similarly declined at a -0.6% rate during the same time period. The overall losses of the ARRL in the USA and its entities has declined at a -2.7% rate over the same time period. There are approximately 158,905 ARRL members in the USA as of January 2018. Colorado's total ARRL membership makes up approximately 2.3% of the ARRL's entire membership.
I believe that the overall decline in nationwide ARRL members is due to a few problems. First of all, we are seeing some attrition due to some of our more senior members going SK and the bulk of our ARRL members are hams that were licensed as far back as the 1950's.
Secondly, The new hams we see getting licensed are mostly just obtaining their ham radio licenses because they are looking for alternative emergency communications. They are not joining for love of the radio hobby itself. Almost none of them are joining radio clubs and even fewer are becoming ARRL members. That will be our challenge.. to try to gain some of these licensees into the hobby itself.
I also believe that the increase in ARRL membership dues may have caused some members to not renew or join. That is always the chance when you increase dues of any sort even though your ARRL membership is still a bargain considering the representation and the benefits offered overall. For a more comprehensive treatise on the ARRL and it's membership value, please click here
To this extent, we desperately need to offer an entry level amateur radio license exam more suited to attract people under the age of 30 to the hobby. The ARRL is considering changing the entry level exam to reflect more of what might be more attractive to potential hams by modernizing the question pool and making more in line to today's technologies. Your input is requested and welcomed at http://www.arrl.org/news/arrl-seeks-opinions-concerning-possible-new-entry-level-license 
 According to the FCC's database, as of December 2017, there is a total of 17,234 ACTIVE ham licensees in Colorado. Of which, 3,306 are Extra Class; 895 are Advanced Class; 3852 are General Class; 9,040 are Technician Class and there are still 141 classed as (renewable) Novices. So, doing the math once again, 20.8% of all the hams in Colorado are currently ARRL members. C'mon guys and gals… I'm sure we can do better than that! You Club Presidents need to recruit more of your current members to join the ARRL. You new hams need to join one of the many great ARRL affiliated Ham Radio Clubs in Colorado, join the ARRL as a member and reap the many benefits ARRL membership has to offer.
Just click on the link below to join this great ham radio fraternity. I hope you will utilize this convenient tool and join us soon.
https://www.arrl.org/join-arrl-renew-membership/
 ARRL Club Commission Program:
Commission Terms
ARRL Affiliated Clubs receive a commission for every new ARRL membership and renewal they submit to ARRL Headquarters.
Clubs retain a portion of the dues for each regular membership submitted to ARRL Headquarters:
Clubs retain $15 for each new membershipOR lapsed membership (of two years or more). A NEW MEMBER is defined as any individual who has never been a member of ARRL or any individual who has not retained a membership for two or more calendar years prior to the application submission.
Clubs retain $2 for each renewal. A RENEWING MEMBER can renewat anytime, even before their current membership term expires.
 Upcoming Hamfests and Conventions:
If you're organizing a Hamfest, convention, or tailgate we encourage you to apply for ARRL-sanctioning. Sanctioning contains many benefits, and details can be found at http://www.arrl.org/hamfest-convention-application
Colorado ARRL Technical Specialists supporting XCEL with Ham RFI complaints:
As reported at the Fall 2017 CCARC meeting, we have added to our CO Section Field Services organization two new Tech Specialists to help support XCEL in the determination of RFI problems as pertaining to ham radio complaints. The new XCEL Senior Service Investigator is Jeremy Matzek. We would encourage any RFI complaints to come through our TS group first for determination as to whether or not it is a potential XCEL service problem or an RFI issued caused by something else. Our TS contacts are:
Tom Thompson, WØIVJ
Walt Stinson, WØCP
Together, they have resolved a very long suffering ham's problem in the Lakewood area. After some preliminary tests in and around the ham's home QTH, it was determined to be XCEL Power's problem and after much searching, Jeremy found the offending power pole some three miles away from the QTH of the ham. For the first time in a few years the ham now can work on HF without the S9++ buzz.
Respectfully Submitted,
Jack Ciaccia, WMØG
ARRL Colorado Section Manager